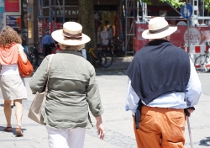 This document provides the legislation necessary to the computation of loss of autonomy allowance.  Legislative sources (reference of the laws, number of the decrees and of ministerial orders) as well as the date of issue in the Journal Officiel de la République Française (JOFR or JO) are systematically mentionned. These tax parameters are used in TAXIPP, the IPP micro-simulation model. The first (hidden) lign of each worksheet of the file indicates the names of the parameters used in TAXIPP.
---
Free copy, dissemination and use, providing the citation of this source: "Barèmes IPP: autonomie, April 2017"

Authors: Mahdi Ben Jelloul, Antoine Bozio,  Lucile Romanello, Marianne Tenand, Elsa Perdrix.
Contacts: Antoine Bozio, Lucile Romanello
---
(April 2017) .xls format, 59 Ko, 7 sheets
………………
Table of content
I. Attendance allowance (AA)
1 Amount of markup for constant support to a third party
2 Attendance allowance for individuals living at home
3 Attendance allowance for individuals living in a nursing home
4 Pension eligibility age
5 Minimum amount of AA