The IPP is very honoured to welcome among its affiliates Catherine Moisan, former Director of the Evaluation, Forecasting and Performance Department (DEPP) of the Ministry of French Education, in order to contribute to the development of the "Education" axis.
Catherine Moisan, a former student of the École Normale Supérieure and agrégée in mathematics, has held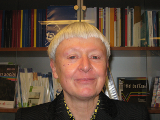 numerous positions at all levels of the French educational system. After several years of teaching in middle and high schools, she joined the office of the Minister of Education Alain Savary as adviser in 1983. Two years later, she was appointed as an expert by the European Commission and carried out several comparative studies of educational systems in Europe. In 1990, she was appointed Deputy Chief of Staff of the Minister of Education (Lionel Jospin then Jack Lang). She joined the Inspection Générale de l'Education Nationale (IGEN) in 1994,
where she coordinated several reports focusing on the determinants of success in priority education areas. In 2001, she was appointed Director of Educational Services for the city and department of Paris, before returning to the IGEN in 2009, where she coordinated several missions on the reform of general and technological high schools and on the impact of school choice reforms in France.
Between 2013 and 2015, Catherine Moisan served as Director of the Direction de l'Évaluation, de la Prospective et de la Performance (DEPP) of the Ministry of National Education. Now retired, she remains very involved in education, as president of the Association Française des Acteurs de l'Education (AFAE) and of the council of the Ecole Supérieure du Professorat et de l'Education (ESPE) of Créteil.
The entire IPP team is delighted to benefit from her unique knowledge of the French educational system!
Ce message est également disponible en :

French