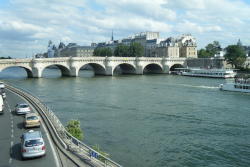 IPP Policy Brief n°65
May 2021
Auteurs : Léa Bou Sleiman, Patricia Crifo, Benoît Schmutz
Contacts : lea.bousleiman@ensae.fr, patricia.crifo@polytechnique.edu
…………………………
Summary: In 2016, Paris authorities decided to completely close a section of the "Georges-Pompidou" embankment road to car traffic. This policy brief describes the effects of this decision on traffic conditions on the city's ring road. The closure of the riverside road has increased the occupancy rate, likelihood of congestion, and
travel times on eastbound routes, particularly on the southern ring road. Since the ring road's surroundings are more densely populated than those near the River Seine, it is possible that this closure had a negative net effect on the number of residents exposed to more polluted air.
Key points:
The closure of the riverbank road led to a 15% increase in congestion on the west-east lanes of the southern ring road, equivalent to an additional two minutes for a 10km trip.
• Because of the higher population densities around the ring road, the resident population potentially affected by air degradation is about twice as large as the resident population that benefitted from the closure.
• These short-term effects raise questions about the dependence of the Paris metropolitan area on the automobile and about the appropriate level of governance of environmental policies.
Acknowledgements: The authors would like to thank the Investissements d'Avenir program (ANR-11-IDEX-003/Labex Ecodec/ANR-11-LABX-0047) for its support and the City of Paris for making the traffic data available.