IPP Policy Brief n°75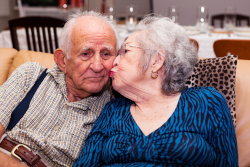 October 2021
Author : Léa Toulemon
Contacts : lea.toulemon@ipp.eu
…………………………
Summary:
Respecting their wishes as to where they should be cared for, elderly people who are losing their autonomy are encouraged to remain at home, but in doing so a large part of the burden of care is implicitly placed upon their family and friends. When the elderly lose their independence, the people who live with them, especially their partners, are the first to be called upon to provide day-to-day assistance. Using detailed data on the difficulties faced by older people in their daily lives and the tasks performed by their caregivers in their homes, we examine the influence of gender on the likelihood of helping a dependent partner, as well as the type of tasks performed.
Key points:
About 40% of the partners of an elderly person who has at least a mild difficulty provide them support.
Women and men in couples are equally likely to help their dependent partners, given the same age and needs, and considering all tasks together.
Women and men do not perform the same tasks for their partners and this is not due to the age or needs of the partners being helped.
Women help more with bodily care (+10 percentage points), such as dressing and washing.
Men help more with tasks that take place outside the home, such as shopping (+6 percentage points).
The age difference between partners influences the caregiving relationship. In couples where the man is older, female caregivers are more likely to provide any type of help.
Ce message est également disponible en :

French