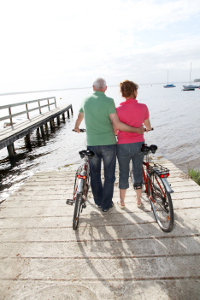 IPP Report n°24 – June 2019
Authors: Carole Bonnet, Antoine Bozio and Julie Tréguier
Contacts: julie.treguier@ipp.eu ; carole.bonnet@ined.fr ; antoine.bozio@ipp.eu

Main funders: Rights, Equality and Citizenship Program of the European Union 2014-2020 (GenPensGap project – 820786), Department for Research, Studies, Evaluation and Statistics (DREES) of the French Ministry of Solidarity and Health
Summary
The report analyses conjugal rights in the French pension system by comparing the effects and objectives of different schemes. It presents several avenues for reform, compatible with a universal points-based pension system and aimed at improving the effectiveness of these schemes.
Conjugal rights in the French system are all "derived" rights, in the sense that they depend on the direct rights of a spouse. The aim of these derived rights, in the form of reversionary or survivor pensions, is to cover widowhood risk. This risk can be defined as the fall in standard of living, or entry into poverty, following the death of the spouse.
Under the current system, on average, reversion maintains the standard of living at the death of the spouse. However, this average hides strong disparities, with overcompensation effects and net losses in living standards – especially when the surviving spouse has little or no pension of their own. These disparities stem from differences between schemes in the way reversionary pensions are calculated, the origins of which lie both in different philosophies and in the use of reversion for different purposes.
The increase in separations has led to the definition of a new risk to be covered: the risk of divorce. In the current situation, reversion plays this role. In case of divorce, the amount of the survivor pension depends on the subsequent marital course of the deceased spouse. In addition, the survivor pension can only be paid on the death of the spouse, potentially many years after the divorce, which leads to a lower rate of recourse. Reversion therefore appears to be an unsuitable instrument for covering the risk of divorce.
At present, all pension schemes limit the benefit of survivor pensions to married couples, excluding couples in civil partnerships (PACS). It is not always easy to justify such a differentiation, about which the insured are not well informed.
The current rules defining survivor pensions are very heterogeneous from one scheme to another, differing on the age of entitlement, the condition of length of marriage, the rules on the division of rights between divorced surviving spouses, whether or not other resources are taken into account, and the rate of the survivor's pension. Such disparities are difficult to justify and harmonizing the rules should be one of the objectives for the establishment of a universal pension system.
………………
Ce message est également disponible en :

French