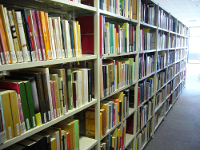 Motivation : What is the optimal embargo time for publication in humanities and social science? After how long would it be best to implement open access to publications of publicly funded research?
Project: The research project aims to
review the literature and international experiences on the expected effects of an open access policy ;
study the value chain in social sciences in France and understand the current business models in the humanities and social sciences and the possible evolutions and outcome in a digital world ;
estimate the impact of open access depending on several scenarios where the embargo period could last from 6 months to 4 years after publication.

Funding : Ministry of higher education and research
IPP researchers associated to this project : Maya Bacache-Beauvallet (Télécom-ParisTech professor), Françoise Benhamou (professor and member of ARCEP) and Marc Bourreau (Télécom- ParisTech professor).
---
Publications
Ce message est également disponible en :

French