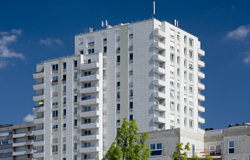 Motivation: French housing benefits are a very substantial part of both housing policy and social policy. They aim both to improve the affordability of housing for low income households and play a part in the reduction of poverty. The purpose of this work is to analyse several options to reform French housing benefits in order to improve their overall efficiency.
Presentation of the project: More specifically, the project aims at measuring the impact of different reform scenarios for the French housing benefit system. Different options are considered, either by changing the benefit formula or, more radically, by integrating housing benefits more closely into the tax and benefit system. All options are simulated using TAXIPP, the microsimulation model of the French tax and benefit system developed at IPP.

Financement : Cour des comptes, the French Court of Auditors.
IPP researchers associated with this project: Antoine Bozio, Julien Grenet, Gabrielle Fack, Malka Guillot, Lucile Romanello and Marion Monnet.
---
Publications
Presentations
Presentation of December of 2015 (conf. AFSE-DG Tresor) : "Reformer les aides personnelles au logement" A. Bozio, M. Guillot, M. Monnet et L. Romanello – Download the slides
Presentation of September of 2015 (5th World Congress of the IMA) : "Designing Housing Benefits: an Application with French Data" A. Bozio, G. Fack, J. Grenet, M. Guillot, M. Monnet, L. Romanello – Download the slides
Press articles
Ce message est également disponible en :

French